Telekom Television Ltd (TTV) is the Solomon Islands main television network. TTV is a free-to-air, commercial television network, located in Honiara. The company was founded in March 2008 with the first broadcast transmission occurring in July 1992.
TTV is a wholly owned subsidiary of Solomon Telekom Co. Ltd (STCL). STCL operates under the brand name - Our Telekom.
TTV broadcasts three SD analogue and sixteen HD digital (DVB-T) channels in the VHF/UHF frequency bands. The HD channels, available in Honiara, are a mixture of overseas sport, news and entertainments channels.
The SD channels are relayed to five other locations in four of the Solomons nine Provinces. Linking is achieved via a private satellite and STCL's microwave links.
TTV conforms to the Australian television transmission standards.
TTV ONE carries a mixture of live local and international sport events along with international news and entertainment channels.
TTV ONE is also streamed online (as Programme Rights allow) and is accessible via the Our Telekom mobile network throughout the Solomons. The service is Geoblocked to the Solomons.
The TV facility is currently undergoing an upgrade to enable more local and an expanded programme schedule.
VISION STATEMENT
To be the best entertainment company in the Solomons
MISSION STATEMENT:
Everything we do is for the Solomon's - we believe in keeping it local and making it fun
The way we do it is to capture and deliver what the Solomons want to watch
We bring the Solomon flair and passion from those who have a great story to tell, whether it be as sport, news or entertainment
MANAGEMENT
TTV
Mr Loyley Ngira Chief Executive Officer
Mr Tony Rayner Manager Television Services
Mr Frederick Osifelo Programme Manager
Mrs Lorna Adomea Sales Executive
TTV Board
Mr Adrian Wickham Chairman
Mr Jerry Tengemoana Director
Mr George Kuper Director
Mr Kunal Nandan Director
Mr Harry Kuma Director
Ms Antoinette Wickham Director
---
HISTORY
The first free-to-air television (FTA) transmission was broadcast by Our Telekom in July 1992, when the Barcelona Olympic Games was transmitted from a low-powered VHF transmitter located in Honiara.
In June 1994 Our Telekom gained the FTA TV broadcast rights for the FIFA Mens World Football World Cup. Our Telekom and TTV gains rights for all its broadcast content and has long since stood against any form of piracy of programming.
In 2006 One News Limited, a privately owned company was established to operate FTA TV to produce programmes in Pidgin and English including local news, sport, entertainment and educational programmes. Our Telekom supported One News (later known as One TV) by permitting it to broadcast on its VHF channel.
In March 2008 Our Telekom formed the wholly-owned Telekom Television Ltd and gave the company a mandate to plan and develop FTA television across the Solomon Islands.
In 2016 the first Parliamentary broadcast was aired. Transmission of HD digital services also commenced in Honiara.
Over subsequent years, more services have been added to the network.
---
TTV TRANSMITTER SITES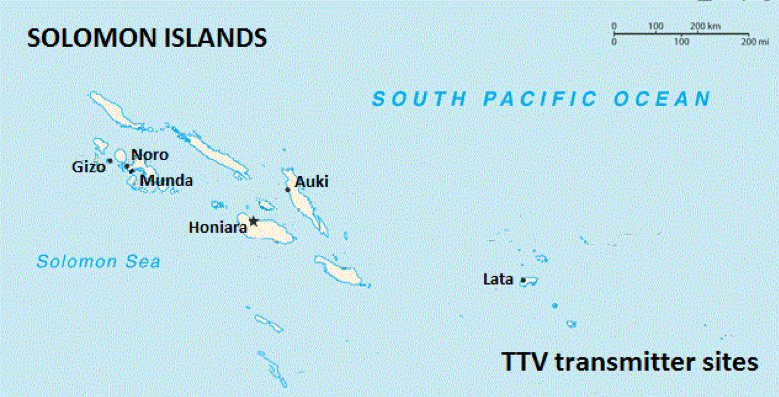 Channel Availability
Channels
Honiara
Auki
Gizo
Noro
Munda
Lata
Our Telekom
3G/4G mobile
TTV ONE

*

TTV TWO
TTV THREE
Digital HD (16)
* as Programme Rights allow